8 PPE Tips to Reduce Heat Stress
This summer is shaping up to potentially be one of the most dangerous summers on record in regards to the job site risks related to heat stress and heat stroke. In addition to record temperatures already being recorded in the Southwest and the East, the PPE clothing wardrobe has changed for 2020 where many workers are now required to wear FR facial protection during their workday along with their usual ensemble of FR clothing. This added layer of protection worn on the face, even with the most innovative FR face wear options available on the market increases the risk of suffering from heat stress or heat stroke at work.
KEEPING COOL ON THE JOB
There are several recommendations for those working outdoors regarding their FR clothing and face covering apparel that can help to mitigate the risks associated with the summer heat. These recommendations accompanied by following common sense guidelines such as drinking plenty or water and taking frequent short breaks from the heat when possible can make the difference between just having a "sweaty day" at work or having a far worse outcome.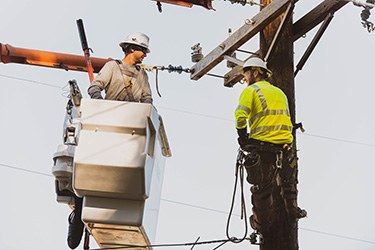 Assuming a worker has some flexibility in the FR clothing he or she wears on a hot day, below are some things to look for when choosing your FR clothing. If you are unsure about some of these questions, ask your FR clothing supplier to provide you with this information along with their recommendations regarding the most comfortable and lightweight FR clothing options that are available.
1. Be mindful of fabric weight

All things being equal, a garment made from a lighter weight fabric is more comfortable than a heavier one. When possible, select the lightest garments available that also meet or exceeds the FR hazard you need to be protected from (CAT 1-4, NFPA certifications, etc). For example, there are now several shirt options on the market that are 6 ounces or less that are also CAT 2 arc rated.
2. Air permeability
The air permeability of a fabric directly relates to how fast air can interchange between your clothing and your skin. Higher air permeability equals greater comfort on a hot day because as hot air moves away from your skin, it also transports moisture (sweat) along with it. This creates a cooling effect at the surface of the skin and greatly reduces body temperature.
3. The color of your garment matters
We've all been on the giving or receiving end of the old adage "I can't believe you're wearing black in this heat!". This is because it's entirely true — lighter colors are cooler in the sunshine whereas darker colors are hotter.
The closer a color is to black, the more heat it will retain due to the energy it stores. Light and heat are both sources of energy, and these sources are both interchangeable. When light energy is absorbed it transfers into heat energy which is precisely why darker colors retain more heat. On the other hand, light gray or tan colors are cooler because lighter colors reflect more sunlight, resulting in less of that light energy being converted into heat.
4. Avoiding sunburns
While most FR garments offer good protection from sunburns, there is still potential for harmful UV rays to penetrate the fabric. In order to mitigate the risk of burning, look for garments such as shirts that have a UPF rating for sun protection. Anything FR clothing rated UPF 50+ will offer a substantial amount of protection to assure that you will not get sunburned through the garment even after a full day of direct sun exposure.
5. Assure your PPE has proper moisture management
Fabrics that both wick and move moisture (sweat) from the skin to the surface of the garment help reduce your body's surface temperature. Garments that are constructed from 100% FR cotton will wicks but will also hold moisture. As a result, these garments are 100% hydrophilic (they love moisture) and will not efficiently move moisture away from the skin.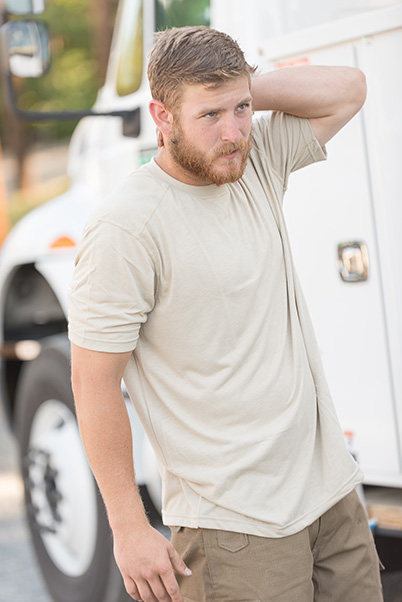 When engineered correctly, fabric blends of hydrophilic (retains water) and hydrophobic (moves moisture) fibers continuously work like tiny straws to draw moisture off the skin. These fibers then move moisture to the surface of the garment evaporate where the hydrophobic fibers repel the moisture and allow it to quickly evaporate.
Fun fact: this evaporation-based cooling technique with fibers is similar to how an air conditioner works. The same principle applies to a high performance FR garment.
6. Wear PPE that provides freedom of movement
When possible, wear clothing that has qualities like
Good stretch (such as FR knit shirts)
Proper fit (Not too baggy. Similarly, rigid or tight-fitting garments can force moisture once absorbed back towards the skin which affects comfort)
Looser fitting FR knit clothing, that also contains a small percentage of stretch fibers such as Spandex®, offers the best stretch possible for unrestricted movement in all directions and helps to create superior comfort.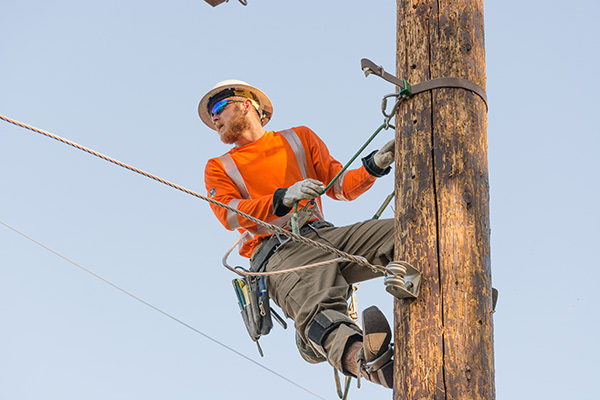 Keep in mind, looser-fitting and baggy are not mutually exclusive terms. In fact, baggy PPE can increase the wearers risk of injury or lack of protection in the event of a hazard. Ensure that the fit of your PPE is neither too large nor too tight, but slightly looser in the summer for increase air permeability and moisture management
7. Keeping cool in FR facial protection

Look for the same benefits in your FR facial coverings products such as face masks, neck gaiters and neck tubes as you would for your summer FR clothing. Wearing facial coverings can quickly build up additional unwanted heat, but following the general guidelines to summer PPE should be enough to mitigate this extra rise in temperature.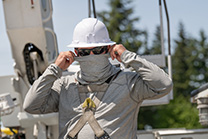 To recap:
Loose-fitting (but not too baggy)
Good air permeability
Ability to move moisture away from the skin
If a garment that is made from a fabric is not comfortable during hot weather on your body, it is safe to assume that it will not be comfortable on your face.
Recapping PPE Tips for Mitigating Summer Heat Stress
TL;DR here is a quick recap of the summer PPE tips to mitigate heat stress:
Look for FR garments made with lighter-weight fabrics (ideally 6.5 oz or below)
Ensure proper air permeability (airflow) from your garments
Wear lighter colors, particularly with shirts as darker colors will absorb more light and convert it to heat
When possible, where FR clothing with a UPF rating of 50 or higher to greatly reduce exposure to UV light
Make sure your PPE has the ability to move moisture away from the skin (garments designed to dry quickly with a blend of hydrophobic and hydrophilic fibers; avoid products that use 100% cotton)
Wear garments with a proper fit, slightly on the looser side (nothing too baggy, nothing too tight or rigid)
Use the same approach when selecting FR facial protection - lighter fabrics with higher performance characteristics will always be ideal