Save 20% on Registration for the 2021 Leavenworth Firefighter Challenge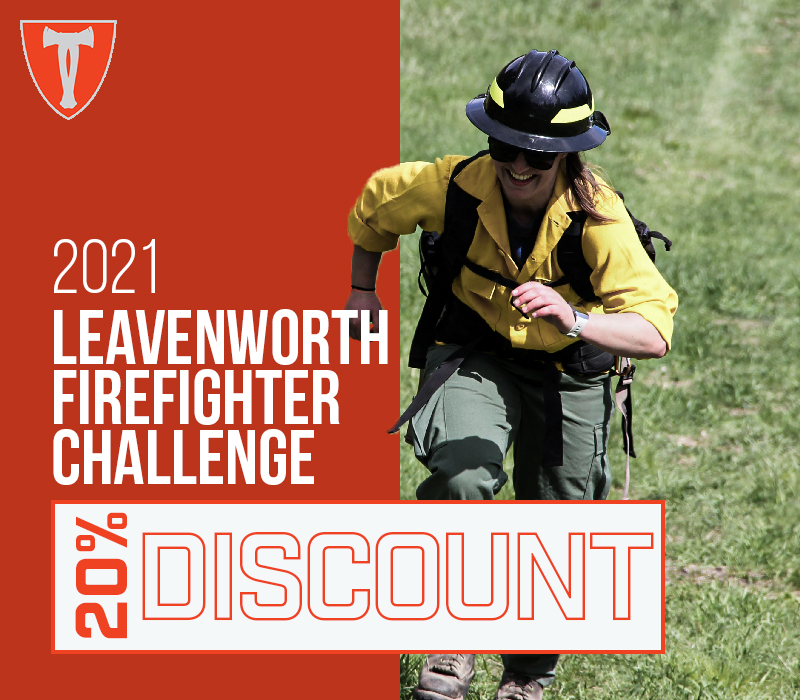 SAVE 20% ON 2021 REGISTRATION
Despite the cancellation of this year's event, both ourselves and the Leavenworth Firefighter Challenge team will be actively working on a plan for the event in 2021 over the summer and months to follow. We intend to make next year even more memorable for the fire community with a wider range of activities for participants and families, and a great challenge with firefighters from all around the Pacific Northwest region.
To kick things off early, we're offering 20% off registration for next year's event when you join our event mailing list. You will receive a coupon code immediately following the opening of 2021 registration and we plan to send periodic updates on newly planned activities, special gear giveaways, and more opportunities to benefit. Until next year, we wish the best health health for you and your families and we can't wait to show you what's in store for the 2021 Leavenworth Firefighter Challenge.


Why the 2020 Leavenworth Firefighter Challenge was Cancelled
Recent times have been nothing short of uncertain due to the COVID-19 virus, which was recently declared a pandemic by the WHO (World Health Organization). The effects of the pandemic aren't just isolated in the Pacific Northwest, but rather have impacted the entire world and the way we are currently going forth in our daily lives. As a result, now more than ever could prove to be one of the largest world-wide acts of solidarity we've ever seen, and perhaps may see in our lifetime.
However, unfortunately, due to state and federal recommendations and/or temporary restrictions, we, along with the Chelan County Fire District #3 Firefighters had to make the decision to cancel the 2020 Leavenworth Firefighter Challenge. The decision was within the best interest of the health and safety of our participants and also in accordance with said temporary state mandates of cancelling or postponing all public gatherings for a minimum of 30 days, but also through the foreseeable future.
Other events in the fire community that have been cancelled or postponed include:
What if I Already Registered for the 2020 Event?
Firefighters who have already registered for the 2020 race will be refunded their registration fee in full. You may also elect to donate your registration fee to the Wildland Firefighter Foundation.
Click Here for Full Cancellation/Refund Details
*The Wildland Firefighter Foundation's "main focus is to help families of firefighters killed in the line of duty and to assist injured firefighters and their families.".