Harnessing Skill: The History of Lineman Rodeos
During peak storm season, lineworkers work tirelessly in challenging conditions to ensure our communities stay powered. But once summer hits, they are training to compete across the nation in lineman rodeos showcasing their skills and brotherhood in a friendly competition against peers. If they win, some of these rodeos help sponsor teams to compete at the International Lineman's Rodeo hosted in Kansas. Rodeo season typically starts in late spring, goes into summer, and ends with the largest rodeo event in the industry, the International Lineman's Rodeo, in October.
The First Official Lineman's Rodeo
Lineman rodeos emerged in the 1980s as a means to foster professional growth and brotherhood among lineworkers. However, according to The American Lineman book by Alan Drew, the concept of lineman rodeos could date back to the 1930s and 40s. Back then, utility companies would host family picnics for their employees and organize lineman competitions to show their skills to their families.
The first official national rodeo, now known as the International Lineman's Rodeo, took place in 1984 in Manhattan, Kansas, at the Manhattan Vocational Technical School, with twelve teams competing. The event grew more successful each year, and by the third year, they outgrew the Manhattan grounds. From 1984 to the early 1990s, they grew from 36 to 235 competitors, 4 to 50 represented companies, and the addition of 20 apprentices competitors by their fourth year. Today the event hosts about 800 journeyman linemen and about 300 apprentices from 115 companies. This event kickstarted the world of lineman rodeos and has allowed lineworkers from various utility companies to come together, share knowledge, practice work safety, showcase their skills to the public, and demonstrate their expertise in a fun and competitive environment. Since then, the popularity of Lineman Rodeos has grown, with events taking place in different regions around the country.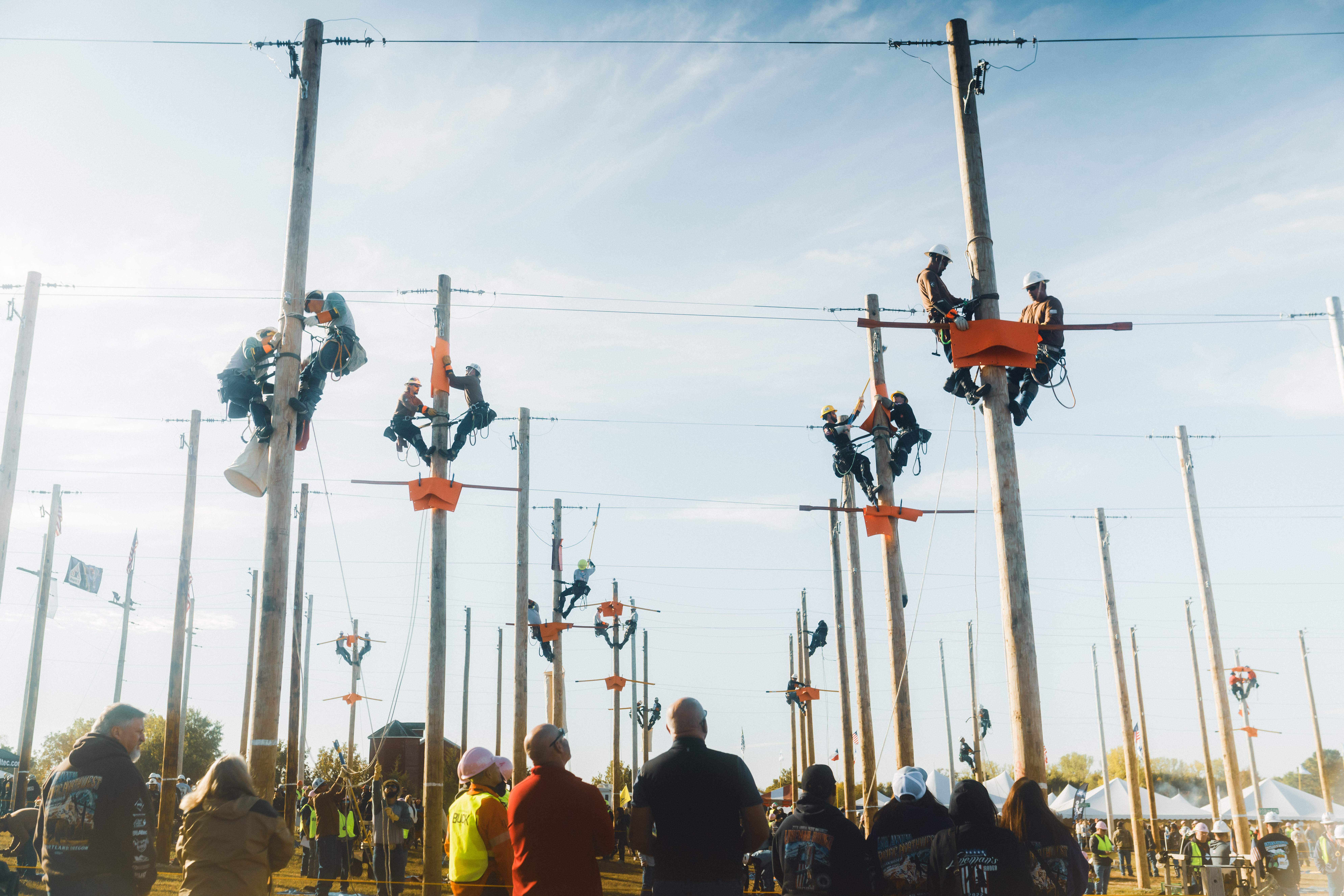 Keeping Score
The scoring format for rodeos is based on points. Each event starts with 100 points, and a point gets deducted for every error. An example of a mistake could be that while climbing, if you slip, run a twisted line, drop an item, or break a rule; a point will be deducted. The final element of the rodeo is time—all of these factors are considered to determine the first, second, and third place winners.
The Importance of Power Lineman Rodeos

Skill Development
They provide a platform for lineworkers to enhance their skills and knowledge through friendly competition. These events challenge lineworkers to perform tasks they encounter in real-life situations, such as climbing poles, rescuing injured workers, and handling equipment efficiently. The rodeos promote continuous learning and skill improvement, raising the bar for safety and performance in the industry.
Promoting Safety
Safety is paramount in the utility industry, given the high-risk nature of their work. Rodeos emphasize safe work practices and proper use of equipment. They learn to execute tasks with precision while adhering to stringent safety protocols, reducing the likelihood of accidents and injuries in the field.
Building a Brotherhood
Lineman rodeos offer a unique opportunity for lineworkers to interact and build relationships with their peers from various companies and regions. The camaraderie and shared experiences fostered in these events create a tight-knit community among lineworkers, encouraging support and cooperation in their day-to-day work.
Showcasing Excellence
Rodeos celebrate lineworkers' exceptional skills and dedication, acknowledging their crucial role in powering our communities. These events provide a public platform to recognize their expertise and contributions, raising awareness of the essential work they do.
Inspiring the Next Generation
These events are not just about the present; they also inspire the next generation of lineworkers. Young lineworkers witness the passion and professionalism of their more experienced colleagues, motivating them to pursue careers in this dynamic and rewarding field.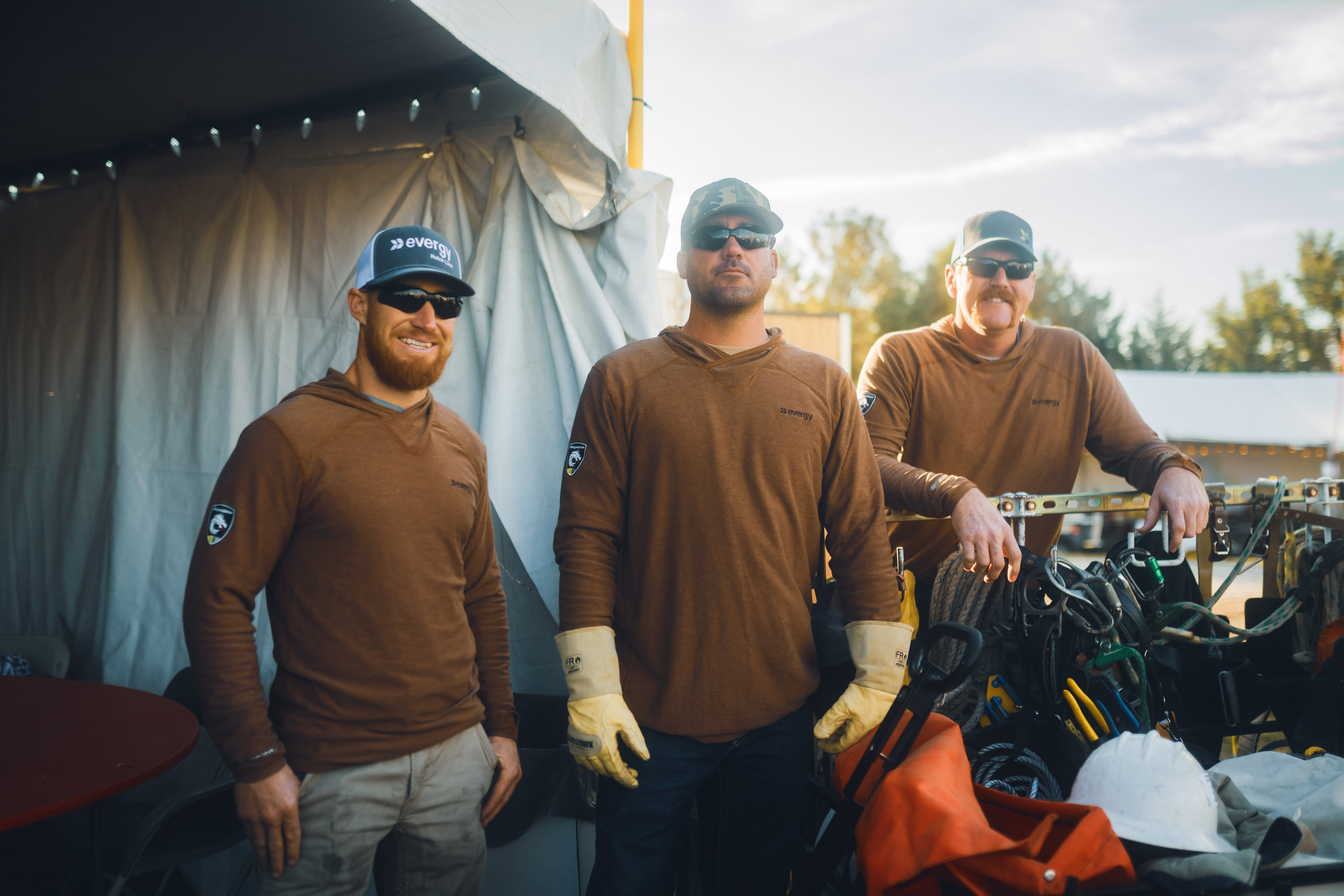 Lineman rodeos are more than just friendly competitions; they are a testament to the lineworker's professionalism, skill, and unity. These events celebrate the dedication and hard work that lineworkers bring to their craft while reinforcing a culture of safety and continuous learning. As we celebrate the spirit of lineman rodeos, let us honor the lineworkers who keep our lights on, ensuring the reliability of our power infrastructure and making our lives better every day.

DragonWear attends several rodeos nationwide, each year showcasing our latest FR and AR workwear collections. If you're attending and would like to see our gear firsthand, be sure to check our Event Schedule to see if we are coming to a competition near you.