A Fire on New Years Eve in Conjola Park: The Story of Andrew Condie
*This entry is a guest post from professional firefighter, Andrew Condie

What started in July of 2019 and would later officially end in March 2020, was one of Australia's most devastating wildfire seasons to date. Coined the "Black Summer", an estimated 46 million acres were burned in the fires, destroying nearly 6,000 homes and taking the lives of humans and animals along with it. The fires greatly impacted the New South Wales region of Australia and reached the point where firefighters from other countries including New Zealand, Canada, and the United States traveled to provide more assistance during the time of need. The following story is about Andrew Condie, a professional forest fire fighter who has fought bush fires all over Australia and in the United States, but was devastated to lose his family home at Conjola Park during the wildfires on New Years Eve, 2020.


The seasoned fire fighter said he had never seen anything like the firestorm that hit his village just before midday on New Year's Eve, with two fire fronts merging and wiping out almost 90 homes.
Andrew's wife, two daughters and their dog, Pumpkin, had left early to go to town for swim when their neighbours called to say they could see flames at the end of the street. At the time, Andrew was working on an out-of-control fire almost an hour south at Batemans Bay when his dad called to say that their family farm was under threat. He headed to the farm to help his dad and on the way past the Conjola turn-off, he noticed smoke coming from Conjola Park. Andrew quickly headed for home instead.
He spent 15 minutes trying to defend homes in his street with his Forestry slip-on fire unit, but the firestorm was too ferocious for one man. Because the fire was too intense, he watched as his family home of 25 years went up in flames.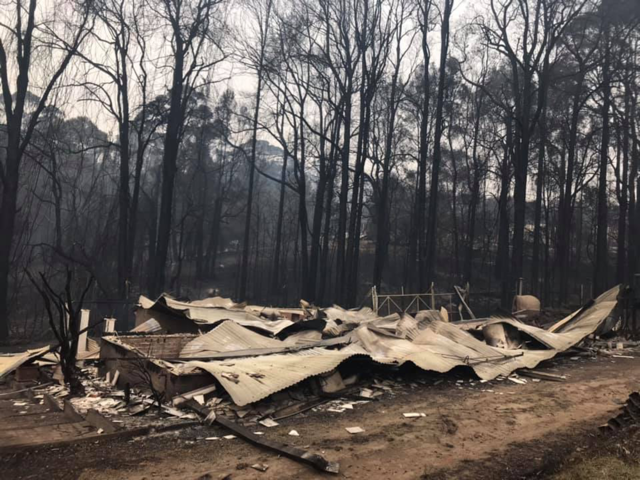 Andrew Condie's family home of 25 Years, burned down as a result of the AU fires on December 31st, 2019
The village of Conjola Park had not been under threat and no fire fighters were there to help home owners battle the flames with garden hoses – that is until the water pressure failed and they had no choice but to run and seek shelter at the lake. Andrew drove four loads of people to the lake where they watched the flames lick at the shore.
While this was taking place, Andrew had lost all phone contact with his family who were watching black plumes of smoke billow up from the safety of a friend's home in Mollymook. Andrew went to the coast end of Lake Conjola to check on his parents house and put out a few spot fires in people's yards along the way.
At eight o'clock that night, he was finally reunited with his wife Katrina and daughters Sienna, 14 and Grace, 11 in Mollymook.
He confirmed their home had gone, as had many of their neighbours'. The family not only lost their home of 25 years, which Andrew and Katrina built the year they were married, they also lost Katrina's car, their caravan, Triumph motorcycle, a vintage motorbike, boat and thousands of dollars worth of tools, sporting and camping gear and precious antiques and memorabilia handed down through both families.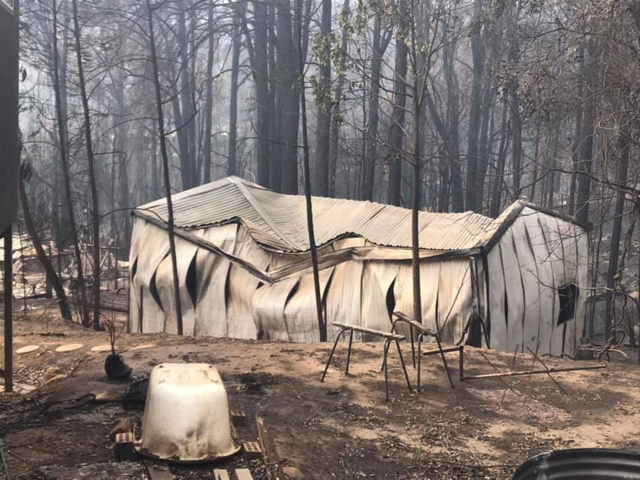 The Shed belonging to Andrew Condie that had burned down with a number of treasured items and equipment inside.
Andrew had been working on fires since August when he was called to work on the north coast of NSW. He had barely a day off up until the day he lost his home. He missed his daughter's dance concert, school presentation days and Grace being announced school captain of Milton Public School for 2020. He missed Christmas dinner with his family and spent half an hour with his kids on Christmas morning before heading off to the fires again. He opened his presents and sat them beside his bed, where they remained until they too were reduced to ash.

The family had no time to get anything out of the house, but Andrew managed to grab his bagpipes before the house was engulfed.
To add insult to injury, all his work gear and camping gear, including swag which he kept at his Batemans Bay depot in case of road closures, also burnt when the Forestry depot was razed the same day.
The man who had fought so hard and spent so many month saving other people's properties was shattered when he couldn't save his own home. Just one week after his life was turned upside down, Andrew was back saving properties on the far south coast as the fire continued to spread, taking out village after village in every direction. Finally, on February 8, the Currowan Fire was declared out and he had a chance to rest and spend time with his family.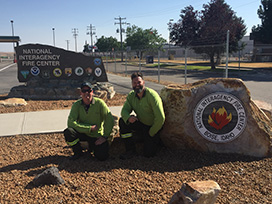 Andrew Condie (Left)