Fire Family | Finding Support as a Wildland Firefighter in the Midst of Tragedy
FINDING A FAMILY IN FIRE: A STORY BY JIM WHEELER
This post is guest authored by Washington State Wildland Firefighter, Jim Wheeler (below)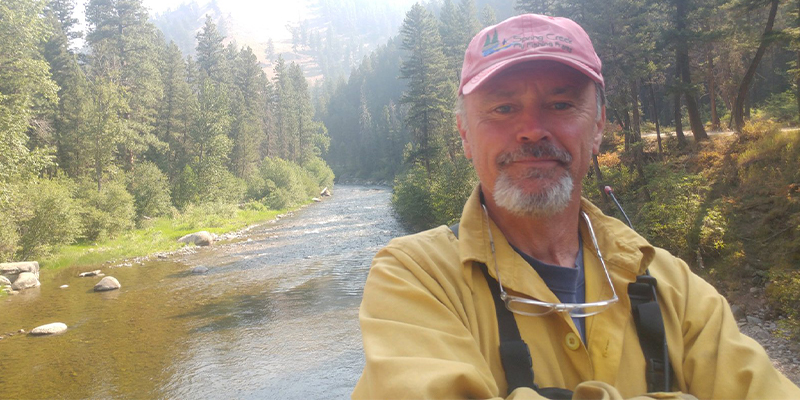 "FAMILY"

It's been said that wildland firefighting, like many other hazardous occupations, is a family affair. But what exactly is a family?
The rote definition found in the dictionary gives the example of, "a group of people united by certain convictions or a common affiliation." Well, I think it's far more than that. Or perhaps, in the fire community, it can be.
MY STORY
11 years ago on a sunny July morning I lost my wife of 19 years to a 16-month battle with T-cell Lymphoma. Thank goodness not many folks will have to feel the emotions that go through you, stick with you, confuse you, and completely rewire you.
The bottom line? I was completely lost.
At that very moment, you truly don't know what to do or how to act. Even more so, you forget who you are and who you can turn to and trust when you are so incredibly vulnerable.
As a wildland firefighter, I was contracted to the Washington State Department of Natural Resources in a local "as needed" closest forces resource. In the fire community, you can inadvertently build strong friendships in an effort to "go do good things together" (as I always tell my crew members). Four days after my wife pa
ssed, I heard a fire being called in over the radio; the Cayuse Mountain Fire. I listened to the call with my normal peaked and passionate interest. It was at that moment I realized that, regardless of any life-altering situation you may be in, you simply can't take the fire out of the firefighter.
I listened as more and more DNR resources were called. Then finally I heard the familiar voice of John Foster saying, "Call Jim Wheeler please. He's local and you have the number." After a few moments I received that call and I didn't think twice about my decision to go and help, even with the thoughts of who I was now after my wife's passing.
I was only 10 or so miles away from the fire, so I waited for my crew guy, Jim, to arrive and we performed our usual check. On our drive to the fire, all sorts of thoughts started racing through my mind and reality finally set in. I was now an "only parent." I was completely and solely responsible for another human being, my daughter Mackenzie. Up to that point in time I had been preoccupied with who I was after the past 16 months. And that, I found out later, takes a lot longer than one would think.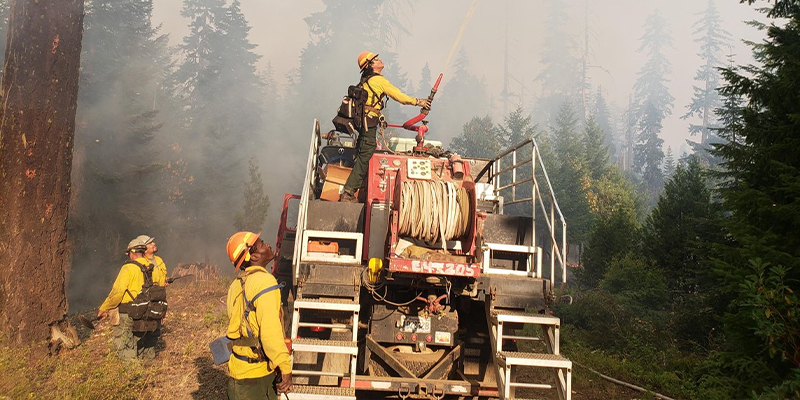 Credit — U.S. Bureau of Land Management
I've always been the organized, checklist type of guy. All through my wife's cancer I was coordinating something. We wanted to keep our daughter "Mac's" life as normal as possible. For nearly 10 months while we were in Seattle trying to get her mom better, Mac would be back at home going to school and competing in sports. When I was with my wife, I was lining up caregivers to take care of Mac at home; back at home when I came to watch a game or band function, I would have to line up caregivers for my wife in Seattle. Now, all that work was gone and whatever this new life was going to be was not yet defined. I didn't understand any of it.
THE CAYUSE MOUNTAIN FIRE
When Jim and I arrived at the fire to check in, we drove past various engines staffed with folks I knew. No one waved and I felt as though everyone was staring right at me. Maybe I was just overthinking everything, but it seemed as though everyone knew what had happened with my wife — and they probably did.
As we arrived, we passed by the medic unit staged outside the fire perimeter. I knew both of the EMTs on the truck, LeLanie and Wendy. They waved me down, got out and made a point to talk to me, touch my hand or hold my arm.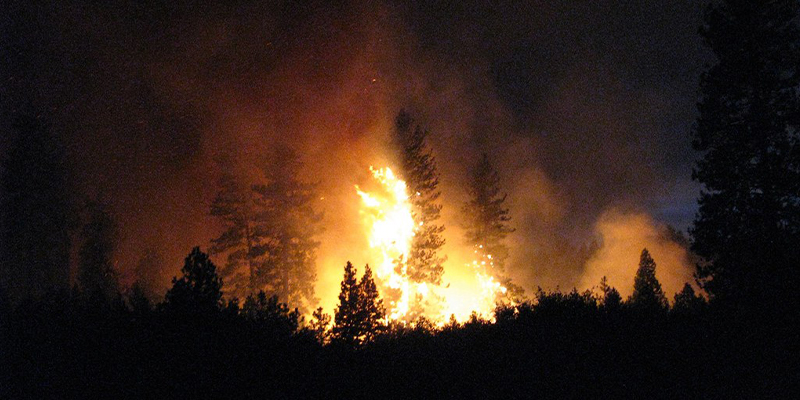 The Cayuse Mountain Fire, Washington State
It's funny the things you remember at times like that. Lelanie said to me, "You be careful out there. Things have changed in your life and you need to be aware of that." I had already known this, but it rang even truer when I heard it coming from someone else. Wendy said meaningfully, "You take of yourself." Again, these words now carried a different meaning. In response I said, "I know" and "I will," looking back at both of them. I thought about that exchange for the rest of the day.

Check in was comprised of three DNR managers standing around one truck with a map on the hood. All three men had always there for me in fire, willing to help and support me in any way they could. Two were personal friends both in the fire community and in general, and one was (and remains) my best and most valued friend; Greg Roberts, Buck Sylvester and John Foster. As we drove up toward them in my unmistakable Mercedes Benz Unimog, they just stood there waiting to see what would happen. Or maybe they were simply watching me, I'm not sure which. What I did feel strongly was the uncertainty of the moment. I took a deep breath and tried my best to stay composed as I walked over to the group. Three hands, one at a time, outstretched to greet me and offer condolences. First Greg, then Buck. When it got to John, his hand came out and grabbed mine, pulling me in for a hug. All I could manage at that time was, "Thanks for inviting me. I needed this." John, without a moment of hesitation returned with, "We knew this was where you needed to be."
With that we filled out the necessary paperwork and went to work.
HOW I SEE WILDLAND FIREFIGHTING AS BEING PART OF A FAMILY
The whole experience has been with me ever since, and it makes you think about life, relationships, and what's truly important. I was part of this "family" with no hierarchy; just people helping each other in their time of need and support. The wildland fire community truly is a group of people who I don't think anyone outside of the fold could truly understand; a true "family."
So, what's my definition of family? It's not so much something you can define but more something you continually feel. An indebtedness that you will never be asked to repay. We're all in this together, is the message, and don't forget that.

— Written by Jim Wheeler, Washington State Wildland Firefighter