Officially Climate Neutral Certified
Happy Earth Day, everyone! We hope you can get outside and enjoy our incredible planet, wherever you are. Here at True North Gear, we're not only celebrating Earth Day, but also that we're officially Climate Neutral Certified!
The process to become Climate Neutral Certified has been a long and intentional process to measure our carbon footprint and then strategize around the best ways to reduce or offset it. This endeavor has been meaningful to us, much like a family heirloom that signifies history and longevity. In this case, our family heirloom is fresh air, clean water, and sustainable designs and products for our valued customers; all things that deserve protection and care.
Sustainability and the environment have been part of our DNA since day one. Today, we're thrilled that we can join hundreds of Climate Neutral Certified brands in taking meaningful action for the natural surroundings that are loved, recreated in, and protected by our customers.
Why is this important?
It's no secret the last two years have been challenging for people, industries, and businesses. In the face of unexpected obstacles, radical pivots, and new ways of working, we've learned that we can overcome significant challenges as individuals, a team, and a society. Globally, we emit almost 60 billion tonnes of greenhouse gasses every year. In 2018, our industry was responsible for 2.1 billion tonnes of these emissions due to the resources required to make and deliver our products.
We are standing up for positive change in our community, our products and clothing, and the future.
We're acting now because scientifically vetted solutions to combat climate change are accessible to brands like ours. President of True North Gear, Steve Misiano, said, "The products we make are essential for protecting people who face life-threatening arc flash and fire hazards at work every day. At the same time, we recognize the manufacturing process is resource-intensive and does damage. We value clean water, fresh air, and keeping our communities healthy. As a result, we needed a process to understand our environmental impact, make improvements, and share what we learned. The people at The Change Climate Project provided access to the tools we needed and a community of like-minded businesses to help make our goal a reality."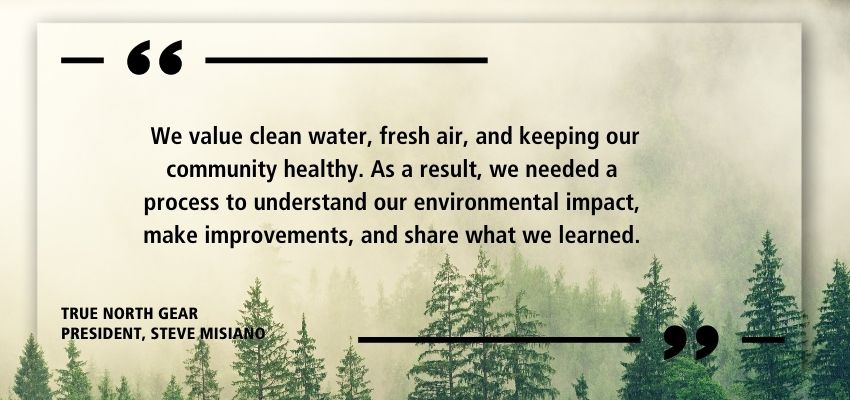 How did we make our plan?
We worked with The Change Climate Project to identify and offset last year's carbon emissions, as well as strategizing on ways to reduce our future emissions. This process took a significant amount of time and resources from our team, which we viewed as a reasonable cost considering the alternative. Bella Todaro, Director of Carbon Measurement at The Change Climate Project, told us that, "Our brands dedicated thousands of hours understanding and addressing their climate impacts through the certification process."
The hours we invested went toward supporting each of our brands in meeting the same standard.

Measure
We measured our 2021 carbon footprint at 3184 tonnes – 1 tonne is equivalent to driving 23,000 miles or 25 million plastic straws. To arrive at this number, we looked at all of the emissions created from making and delivering our products, including our supply chain emissions, employee commuting, business travel, and utility bills.

Offset
We offset these emissions by purchasing 3184 verified carbon credits. We've also contributed $10,000 to American Forests to support reforestation, an effort we've joined in since 2020 as part of our commitment to 1% for the Planet.

Reduce
Last, but not least, we created Reduction Action Plans to help lower our emissions over the next 12-24 months.
Reduction Measure #1

We plan to reduce emissions from our nylon consumption by reducing the weight of the nylon fabric used in our bags. We will assess durability needs in our nylon bags, and swap out 1000 denier nylon for lower denier nylon wherever feasible, in lighter-wear areas and products.


Reduction Measure #2

We plan to reduce emissions from our natural gas office heating by auditing and improving our office's heating efficiency. Fans, timers, electric heaters, and other modifications will be installed where necessary.
What does it mean to be Climate Neutral Certified?
The Change Climate Project is a nonprofit organization committed to solving climate change by making carbon neutrality simple and accessible to businesses. Austin Whitman, CEO of The Change Climate Project, tells us that, "Consumers hold massive power to shape the economy, and their power is exerted through the actions of the brands they support. With our climate label, we're helping consumers find the brands willing to invest immediately in climate solutions."
The hundreds of brands certifying this year go through the same process to measure, offset, and reduce their emissions. Together, Climate Neutral Certified companies are working to eliminate more than 1,000,000 tonnes of carbon emissions - and we're just getting started! These companies offer products and services across various industries, from apparel to media. Next time you're considering a new product, keep an eye out for the Climate Neutral Certified label!
To learn more about The Change Climate Project and other brands committed to climate action, visit changeclimate.org
To The Future
Thank you for joining us on this journey. We're thrilled to be in good company with this year's Climate Neutral Certified brands. True North Gear believes in The Change Climate Project's mission of taking action now to solve a problem that we understand to be an urgent threat to the lakes, streams, forests, and so much more that we love. Let's work together to tackle climate change because together, we are better.